2018 

WINTER SHOW


NOV. 2-3,

20

18
The premier club event of the year, our Winter Show this year is again featuring the Western Canadian National Show, which was founded in Vancouver in 1977.
Our show is an all age, all breeds pigeon show, open to both club members and non members. This year's event is located again in the Ag-Rec Building at the Abbotsford Fairgrounds, Clearbrook, B.C.
Address: 32470 Haida Dr, Abbotsford, BC
JUDGES:
We are pleased to have the following judges confirmed:
John DeCarlo Jr. - Gilroy, CA
Charlie Rowe - Riverside, CA
Gerald Wiebe - Amaranth, MB
Entries Close October 19, 2018
Exhibitor fee: $5.00 per exhibitor
Juniors are not required to pay Exhibitor Fee
Entry Fees: $2.00 per bird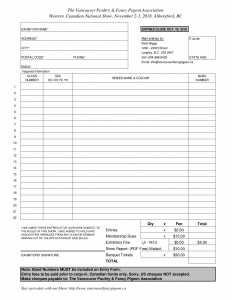 HOST HOTEL:
Best Western Regency Inn & Conference Center
32110 Marshall Road, Abbotsford, BC, V2T 1A1
Phone: 604-853-3111 Fax: 604-852-1750
Reservations: 1-800-771-3077
Special club rate available, book before Oct 22nd!
$99.99 + 15% tax
Quote group #1916 for the "Vancouver Fancy Poultry and Pigeon Winter Show" rate
AWARDS BANQUET
Ricky's Restaurant (Best Western Regency Inn & Conference Center)
November 3, 2018
Doors open 6:00 PM
Tickets $30 per person Order early, always a sell out!
SHOW AWARDS:
VP & FPA Sponsoring $875 in Cash Awards!
VP & FPA Sponsoring Commemorative Certificates
Specialty Meet Awards
SHOW SCHEDULE

Thursday

8:30 PM - 11:00 PM

     Show Setup

Friday

3:00 PM - 10:00 PM

     Coop-in

7:00 PM - 8:30 PM 

     Exhibitor's Reception

8:30 PM  

     Fantail Seminar

10:00 PM
     Building closes
Saturday
8:00 AM
     Building open
9:00 AM
     Judging commences
5:30 PM
     Judging finished, Building closes

6:00 PM - 10:00 PM

     Awards Banquet

Sunday
9:00 AM
     Building opens

9:00 AM - 10:00 AM

     Coop-out
CONTACT OUR SHOW SECRETARY FOR MORE INFORMATION:
Keith Biggs Cell: 604-868-9425
Email: info@vancouverfancypigeon.ca